25 Apology Gifts for Her
Gifts for Girlfriend, Gifts for Wife, Sorry gifts for her
1. Personalized Notebook
Shop: minted.com
Price: $16
This personalized notebook is anything but generic, which makes it the perfect apology gift to really show her you care.
2. Love Tokens
Shop: uncommongoods.com
Price: $20
Maybe you've haven't been as present with your special lady as you should be. This set of love tokens is a cute way to apologize for messing up and it will ensure that you always make time for her in the future.
3. Leila Robe
Shop: bespokepost.com
Price: $238
This lovely robe will help her relax after any stress you may have caused her.
4. Diamond 14k Gold Letter Bracelet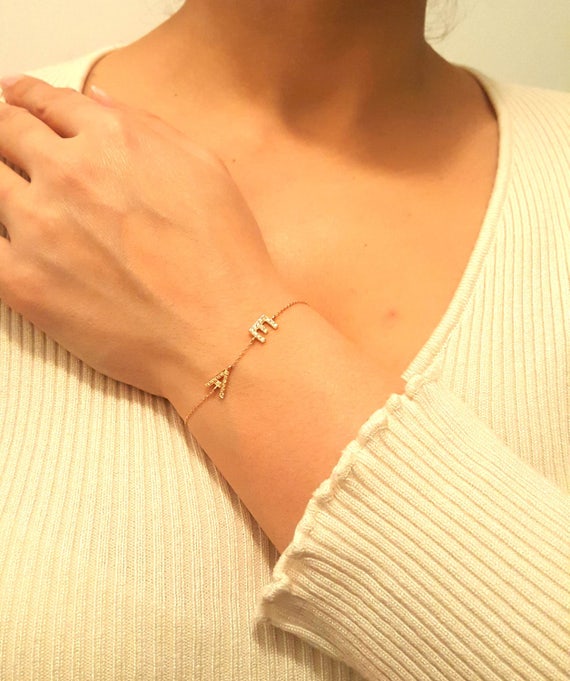 Shop: etsy.com
Price: $202
This bracelet is personalized, luxurious, and thoughtful. What says "I'm sorry" better than diamonds and gold? That's right, nothing.
5. Moon Star Cage Crystal Pendulum Necklace
Shop: hottopic.com
Price: $10,90
The witchy woman in your life will surely forgive you if you give her this crystal pendulum necklace to clear all the negative vibes out of her life.
6. Funny Apology Card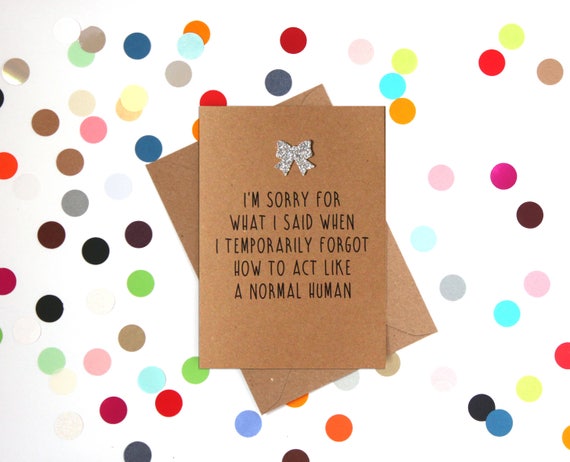 Shop: etsy.com
Price: $3,63
Sometimes you just have to tell it like it is when you screw up. This quirky card is a good, self-depreciating way to let her know you realize you made a mistake. Remember, the first step is admitting you were wrong!
7. Super Mario Princess Power Checkers
Shop: hottopic.com
Price: $12,90
Did you come between a girl and her games? Show your gamer chick you care with even more games, like this Super Mario-themed checkers set.
8. TheraBox – Self-Care Subscription Box
Shop: cratejoy.com
Price: $34,99
Show her you care with this monthly self-care subscription box that will keep her pampered all year long.
9. Ferrero Rocher Hazelnut Chocolates in Heart Box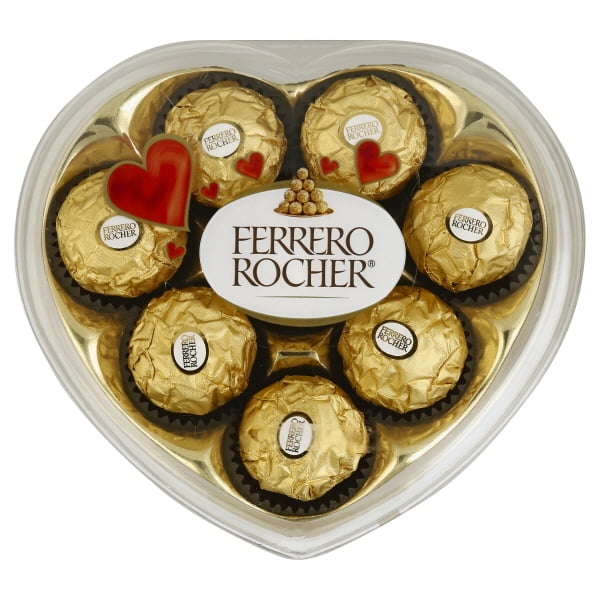 Shop: walmart.com
Price: $5
Sometimes you need a little something sweet to help you say you're sorry to the one you love. These Ferrero Rocher hazelnut chocolates are sure to do the trick.
10. Apology Necklace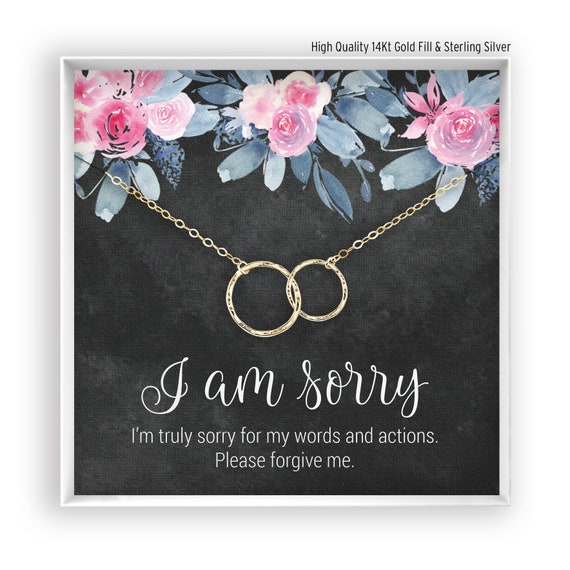 Shop: etsy.com
Price: $33,19
Sometimes it's hard to find the right way to say sorry to the ones you love. This necklace phrases it perfectly without you having to even say a word.
11. Create Your Own Reel Viewer
Shop: uncommongoods.com
Price: $29,95
Fill this nostalgic childhood toy with pictures of you and your loved one together for a gift that will definitely show you are sorry and remind her of all the good times you've had.
12. Enjoy Flowers Subscription Box
Shop: cratejoy.com
Price: $45
Plan ahead for other things you may need to apologize for by signing her up to receive the gift of beautiful flowers once or twice a month.
13. Belmint Shiatsu Back and Neck Massager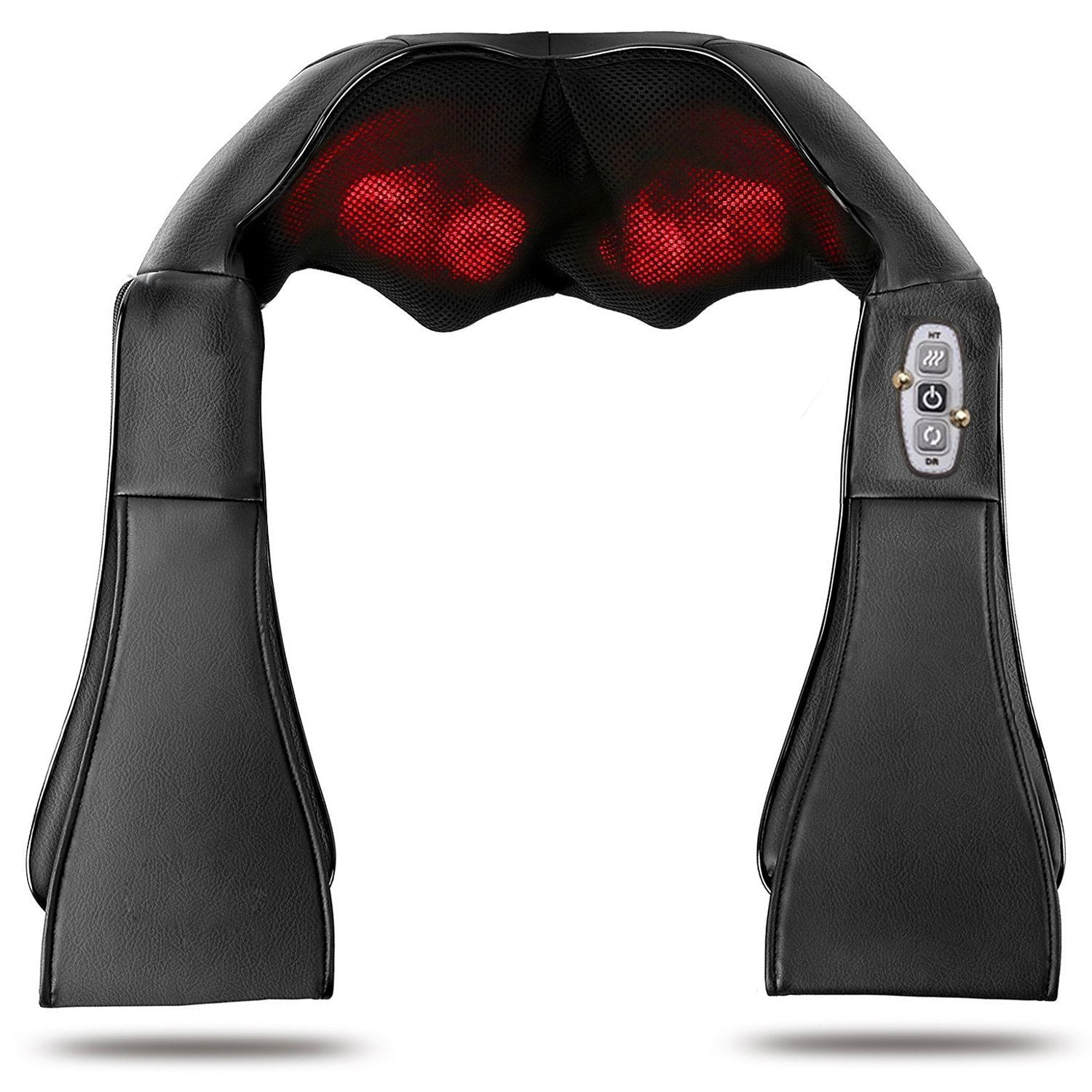 Shop: walmart.com
Price: $49.99
If you've been the cause of her recent increase in tension, you need to get her this shiatsu back and neck massager, complete with heat, to help her get past whatever you did.
14. Personalized Flask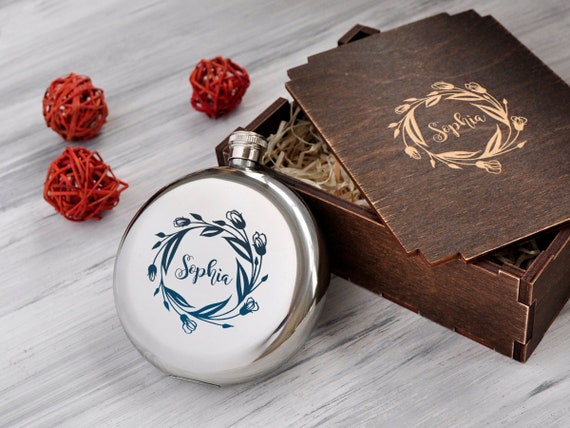 Shop: etsy.com
Price: $20.70
Is your behavior driving her to need to drink? At least help her do it in style with this beautiful personalized flask.
15. Box of Flowers Soaps
Shop: uncommongoods.com
Price: $28
Give her your apology in the form of a beautiful bouquet… of soaps, that is. These lovely soaps last longer than fresh flowers and are a great way to say sorry to any woman in your life.
16. Personalized Gold LP Record
Shop: uncommongoods.com
Price: $175
Remind her that your relationship is a hit and use some music to say how you feel about her with this personalized gold LP record. It can hold up to 5 songs, which is hopefully enough to get your point across.
17. Live Succulent Gift Box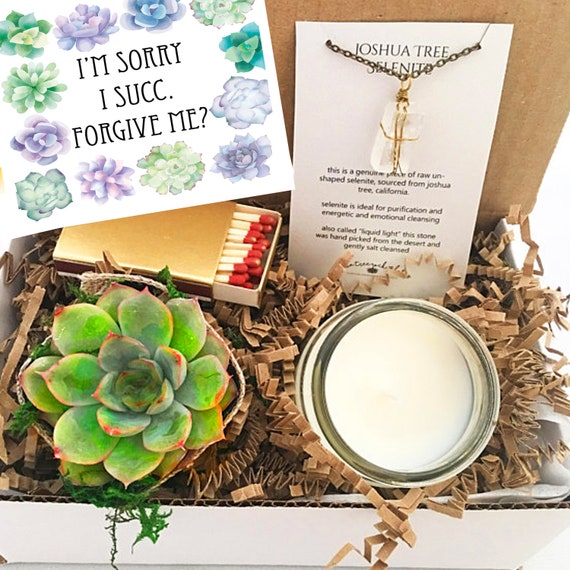 Shop: etsy.com
Try to beg for forgiveness if "you succ" with this succulent gift box that not only includes a live succulent plant, but also includes a healing crystal necklace, a scented soy candle, and a pun-filled greeting card.
18. Beloved Bangle Bracelets
Shop: uncommongoods.com
Price: $96
These bangles will really spell out your feelings and will make her forget whatever it was that you did wrong in the first place!
19. "I Suck at Apologies" Wine Label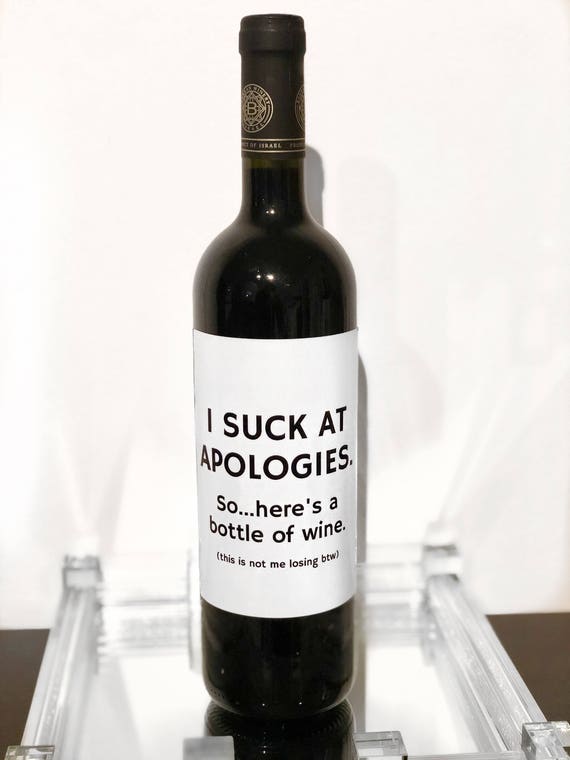 Shop: etsy.com
Price: $5.69
Let's face it, maybe you just aren't great with words. Say it bluntly and with vino with this wine label that you can add to any bottle of her favorite grown-up grape juice. If her sense of humor is as dry as her favorite bottle of wine, then she's sure to forgive you.
20. Maple Holistics Sensual Body Massage Oil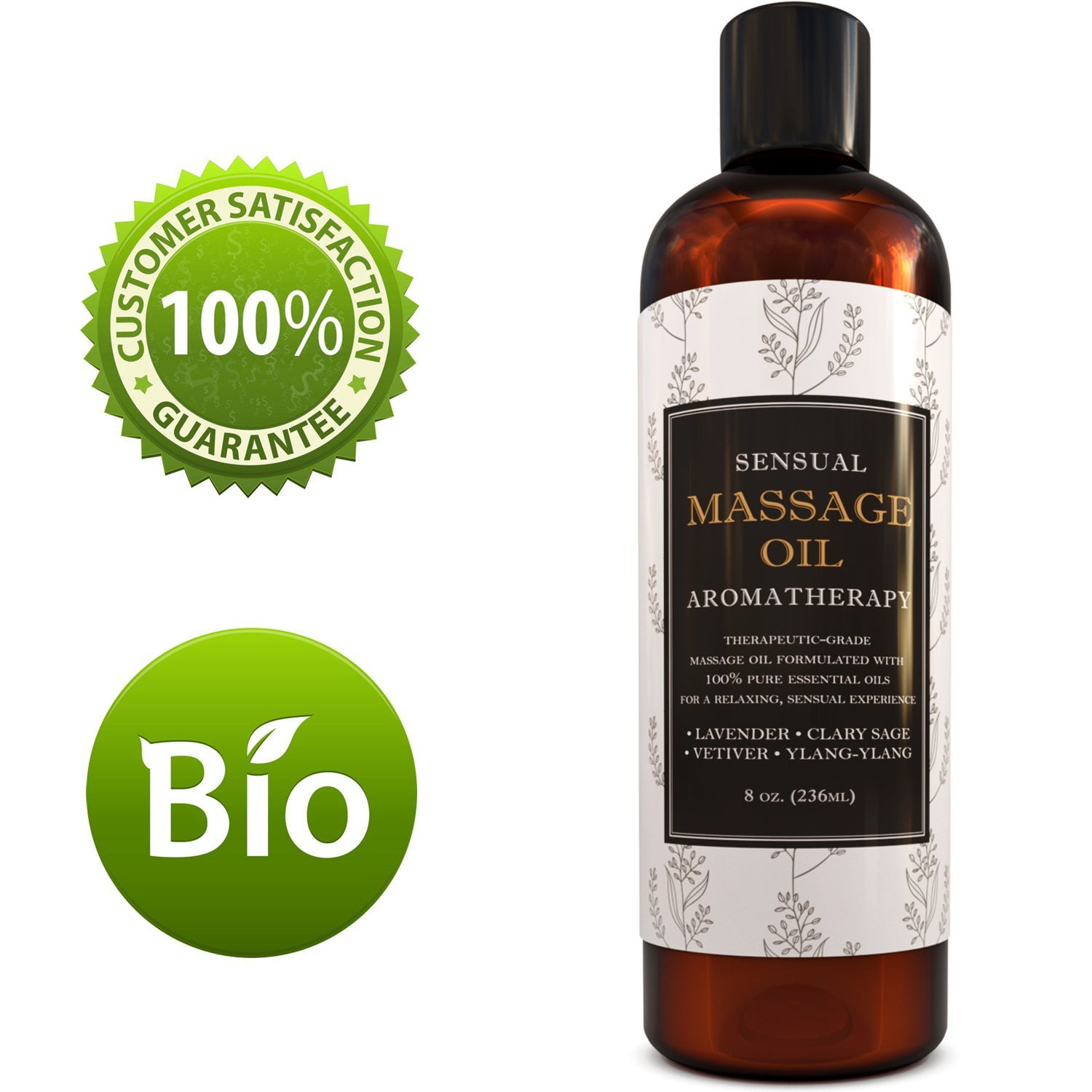 Shop: walmart.com
Price: $9.55
Use this sensual massage oil to give her a rub down that will make her forget what she was even mad at you for in the first place.
21. Torrington Watch
Shop: bespokepost.com
Price: $109
They say only time can heal, so give her the gift of time (to heal those wounds you may have caused) with this gorgeous gold Torrington watch.
22. Inspirational Geode Bath Bombs
Shop: uncommongoods.com
Price: $35
These stunning bath bombs look like jewels and will show her that you know she deserves some "Me Time".
23. "I'm So Sorry" Soy Candle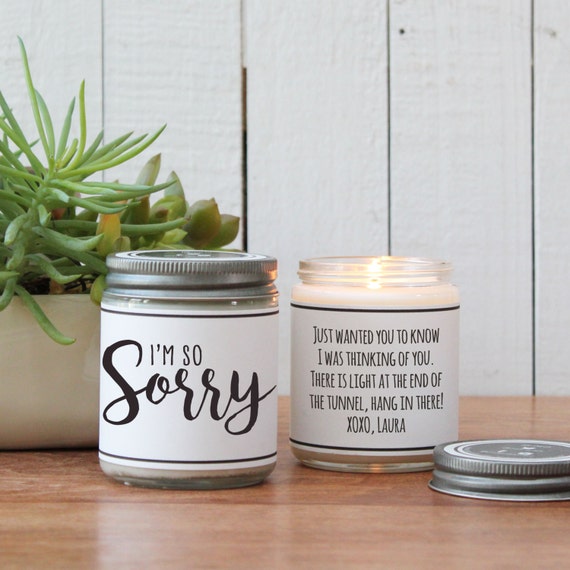 Shop: etsy.com
Price: $24
Say your apologies with a scented candle complete with a personalized message. You even get to customize it with her favorite scent!
24. Sorry Chocolates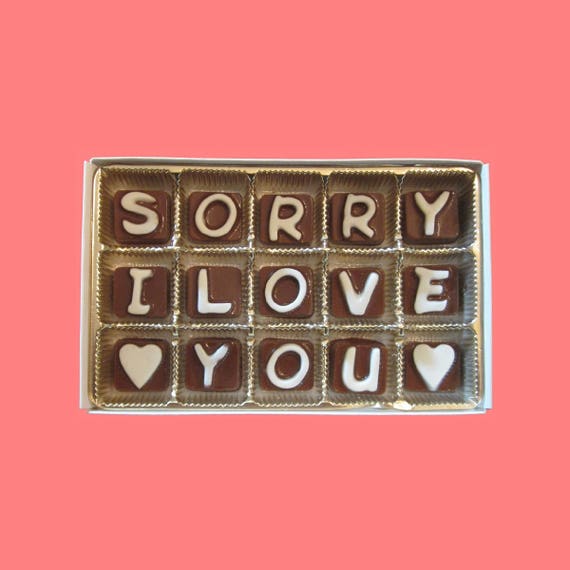 Shop: etsy.com
Price: $29
Really spell it out for her with these chocolates that are sure to show how sweet you really are.
25. Sunflower Aromatherapy Necklace
Shop: uncommongoods.com
Price: $175
This beautiful necklace comes in silver or gold and allows your special someone to put her favorite essential oil in so she can enjoy it all day long.