30+ Best 2-month anniversary gift ideas for her
Two month anniversaries can be very important to some girls. It's a great sign that the relationship is going well. A great way to celebrate an anniversary is with a thoughtful anniversary gift. Below are over 30 of the easiest ways to show your girlfriend just how much you care.
1. Loaded Cookies
Shop: cratejoy.com
Price: $16.50 per month
Delicious cookies and tasty alcohol? What more could a girl want in a gift. What a fun way to have a tasty snack while getting a little buzz. Perfect for the cookie and wine lover.
2. The Lingerie Box
Shop: cratejoy.com
Price: $49.95
Make her feel sexy and sophisticated without the hassle of shopping for it with a convenient and fun box. Simply choose a size and everything else is done for you. How fast and easy!
3. Jewlybox
Shop: cratejoy.com
Price: $18.75 per month
Instead of trying to find one piece why not take the easy way and give a collection of beautiful jewels all in one great box. No wondering whether to get a ring or a necklace this box lets your lady try it all.
4. Best Snacks From Around The World Care Package
Shop: walmart.com
Price: $24.95
Snack boxes are a great two month anniversary gift because it is fun and tasty and allows you to taste things from all over the world together. Each box offers snacks your girlfriend has probably never tried and may never get to try.
5. Versace Miniatures Collection Perfume Mini Gift Set 5 Pc
Shop: walmart.com
Price: $39.99
A perfume set is the perfect gift to say i love you and allow your girlfriend to try different scents. No more wondering what smell she would like, the 5 piece collection almost ensures there will be one she enjoys.
6. Mickey Mouse Pajama Set
Shop: walmart.com
Price: $20.00
Pajamas are an easy way to show you care. Pair them with a matching set for yourself for even more fun. Really can't go wrong with comfortable lounge wear with a cute character or pattern on them.
7. The Wedding Planner Dvd
Shop: walmart.com
Price: $5.99
Buying a cute romantic movie to watch together is the perfect gift especially when it is paired with some tasty snacks and even some matching pajamas. Many girls love a good romance movie even more so when she watches it with her favorite person.
8. 2 Month Anniversary Mug
Shop: etsy.com
Price: $16.00
The perfect gift to honor a two month milestone. It is especially great for coffee or tea lovers. This is a thoughtful gift as well as a very practical one because she can use it everyday.
9. Personalized KeyChain
Shop: etsy.com
Price: $15.96
Personalized keychains are the perfect gift for girlfriend or any special person in your life. It is a daily reminder of how much you care. Everytime they see or use their keys they will think of you.
10. Rose Quartz and Peonies Namastay in bed Comforters
Shop: society6.com
Price: $83.99
A new comforter is a warm and fun 2 month gift to give. It is a great way to bring a little love and happiness to her bedroom. Best of all when she curls up at night to use it she will be thinking of you and what a thoughtful gift it was.
11. Flower Lady IV Tote Bag
Shop: society6.com
Price: $19.99
Many girls love a new bag or purse and a tote bag is the perfect way to show your girlfriend you are thinking about her. She can use it for school, work, food shopping and a variety of other things. For an even more personal touch fill the bag with some of her favorite snacks or some love notes.
12. I'd Rather Stay Home & Do Nothing With You Stationery Card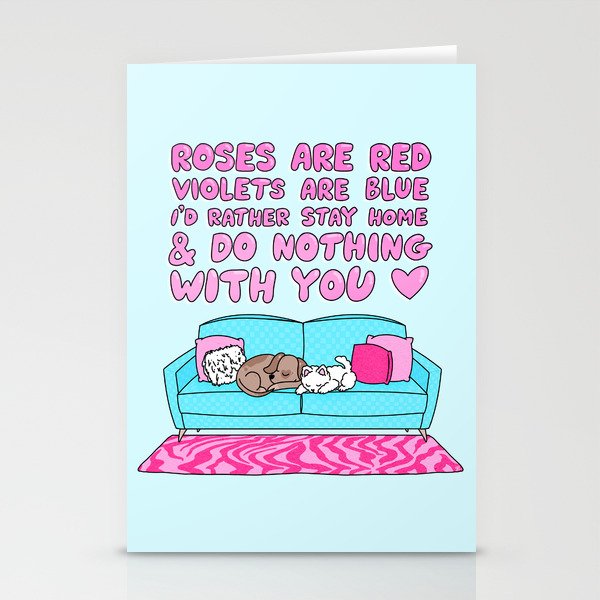 Shop: society6.com
Price: $4.99
A personalized stationary card is a simple and easy way to show your girlfriend how much you care about her. The perfect compliment to any gift or the perfect item if you are on a small budget but still want to show her you care.
13. Name Necklace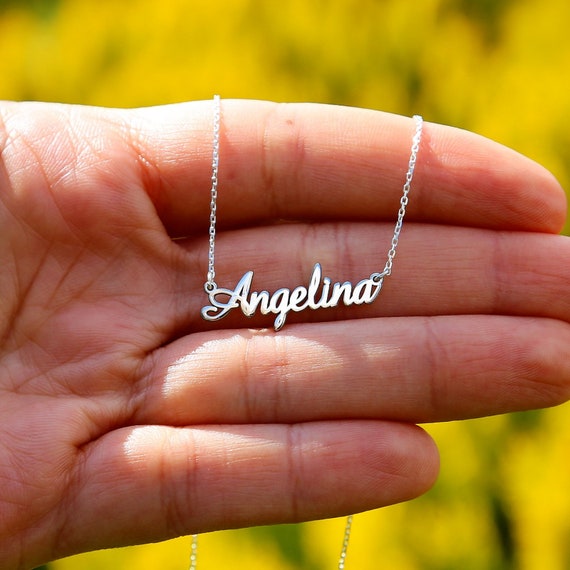 Shop: etsy.com
Price: $28.00
Another special two months gift is a personalized name necklace. It is a fun and thoughtful gift. If you do not want to use her name or she already has her name personalize it with a word that means something to you guys. Maybe the word love or the date of your anniversary.
14. Bucket List Journal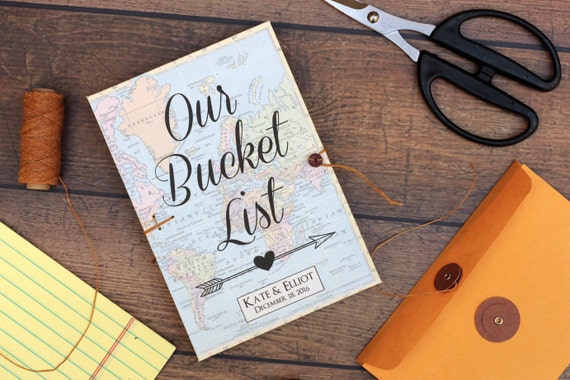 Shop: etsy.com
Price: $46.00
One of the most thoughtful gifts is a book that allows you and your girlfriend to keep track of all your travels and adventures together. The bucket list journal is something fun to fill out together as you travel and see the world. Try filling it with a few thoughtful things before gifting it to her.
15. Pure Magic Vanilla Scrub
Shop: hottopic.com
Price: $7.92
A delicious smelling way to show your girlfriend some love and care is a body scrub. She can use it to pamper herself after a long day or to get ready for a nice romantic date night. For an added touch also give some lotion to match.
16. Heart Princesses T-shirt
Shop: hottopic.com
Price: $18.32
What better gift than a disney princess shirt with all her favorite characters in the shape of a heart. Not only is it thoughtful but also adorable and very comfortable.
17. Disney Adventure Is Out There Wall Art
Shop: hottopic.com
Price: $15.12
A fun and inspiring gift, wall art is a constant reminder of how much you care while also sending a positive message. Wall art is something she can read everyday and feel loved and inspired.
18. Disney Castle Key Necklace
Shop: hottopic.com
Price: $11.90
What is better than jewelry and the key to your heart as the perfect gift. The key necklace is fun and romantic while also not being to hard on the wallet. Most women love a nice piece of jewelry.
19. 100 Books Scratch Off Poster
Shop: uncommongoods.com
Price: $15.00
Perfect gift for any book lover as it lets them keep track of all the books they have read. This is a fun and thoughtful gift that shows your girlfriend you have an interest in the things she loves. Pairing it with a book she has been dying to read is a nice personal touch. Don't forget to include a cute bookmark even if you have to make it yourself.
20. You Think You Know Me Board Game
Shop: uncommongoods.com
Price: $30.00
The best way to celebrate an anniversary is to see how much you know about each other with a fun interesting board game. Even if you find you don't know each other as well as you think it is a great opportunity to get to know each other more. Try having a silly little bet like whoever wins has to buy the other dessert.
21. Make Your Own Chocolate Truffles Kit
Shop: uncommongoods.com
Price: $34.95
Enough said with chocolate truffles, but throw in the fact that you can make them together and you have the perfect two months gift. Pair it with a nice romantic movie or delicious cup of wine and you have a perfect night in with your girlfriend.
22. Hidden Crystal Candle
Shop: uncommongoods.com
Price: $22.00
Candles are always a cool and fun gift to give but crystal candles offer even more as they reveal a beautiful hidden crystal after burning. The crystals symbolize love, healing and other good benefits. It is a nice long lasting gift to give.
23. We Found Eachother Custom Puzzle
Shop: uncommongoods.com
Price: $129.00
If you are looking for a very unique and different gift a custom puzzle is perfect. It gives couples a chance to spend time together while also sending your loved one a nice personal positive message. Throw on a funny movie or play some romantic songs and spend a little time together doing a puzzle.
24. Pinboard
Shop: minted.com
Price: $52.00
A pinboard is a great gift for girls who love to organize and decorate their rooms. For an added bonus pin some things on there before gifting it to her. Perhaps a love note or tickets to a movie she wants to see. Personal touches are always great.
25. Criss Crossed Drum Lampshade
Shop: minted.com
Price: $45.00
Show your girlfriend she is the light in your life with a cool and unique lampshade as a fun different gift. While it may not be a typical gift it is a great way to bring some style and flair to any room.
25. Zoey And Marley Plushie Set
Shop: dftba.com
Price: $25.00
Plushies or stuffed animals is still one of the best ways to show your girl what she means to you. Two lovable pups is the perfect start before a real pet one day. They are soft and cuddly and perfect for napping with.
26. Specialized Water Bottle
Shop: dftba.com
Price: $8.00
A reusable water bottle is the perfect gift for any girl especially an eco friendly lady. It helps keep her hydrated while also saving the environment from extra waste. It is a great gift because it can be used again and again.
27. Weatherproof Wireless Speaker
Shop: bespokepost.com
Price: $35.00
For any music or tech lover the wireless speaker is the perfect gift. They can use it in the car, in their bedroom, while working out making it the perfect practical gift.
28. Hello My Dove. Hello Deer Shirt
Shop: dftba.com
Price: $23.00
A cute and funny t-shirt is a great casual gift to give and a fun way to say i love. Most girls love a comfy t-shirt especially one with cute characters and sayings on it.
29. The Mini Bar Book Set
Shop: bespokepost.com
Price: $20.00
The best gift for any aspiring bartender or any girl who loves a mixed drink. Looks great on the coffee table or bar and has tasty recipes included.
30. Bird's Nest Fern
Shop: bespokepost.com
Price: $38.00
Flowers are nice but plants can be so much better. They typically last longer, add freshness to the air and look beautiful, making plants a great gift.
31. Desk Globe
Shop: bespokepost.com
Price: $55.00
A desk globe is a great way to spruce up a desk or dresser. To make it a really special gift try adding some tiny notes on the globe indicating the places you would love to travel to together.
32. Painted Blossoms Hummingbird Feeder
Shop: uncommongoods.com
Price: $60.00
A painted bird feeder is a great special gift. It is especially great for girls who love birds and the outdoors.